Our NEW current WeatherCam image looking south from the
Mendocino Hotel in the Mendocino village. View is of the Mendocino Bay and Chapman Point.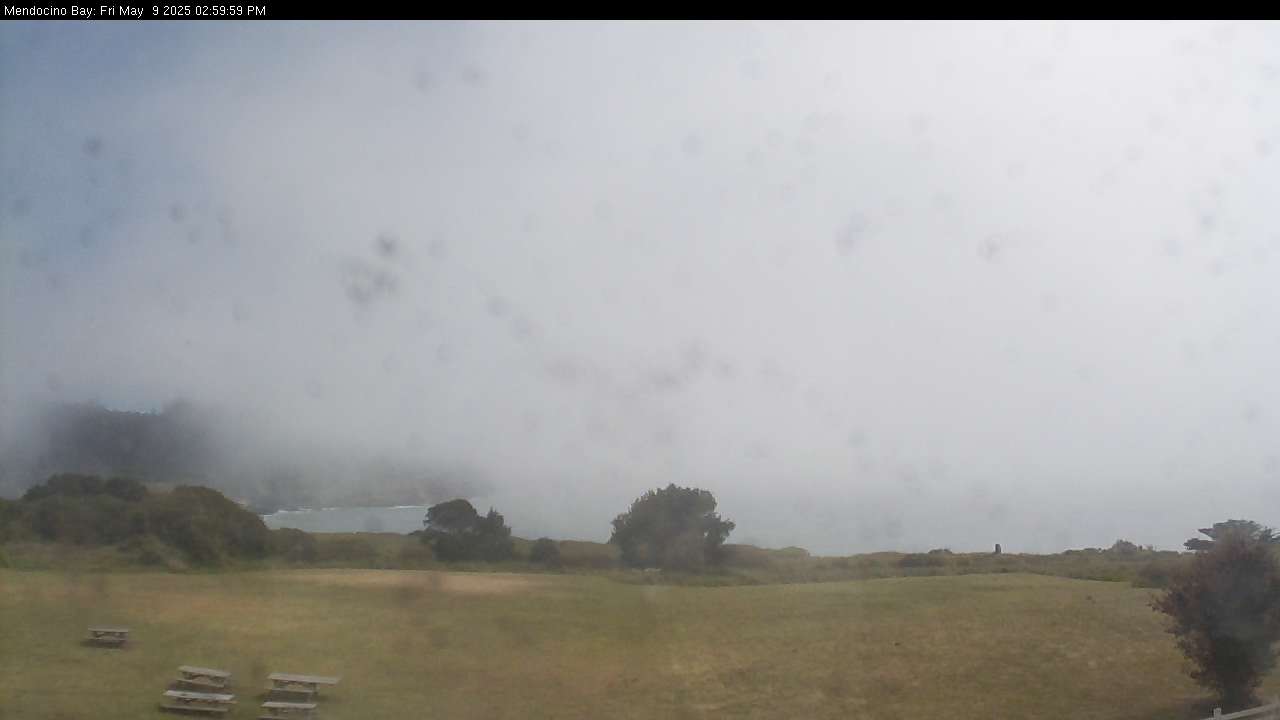 A special thank you to Sea Cottage Real Estate as well.
---
---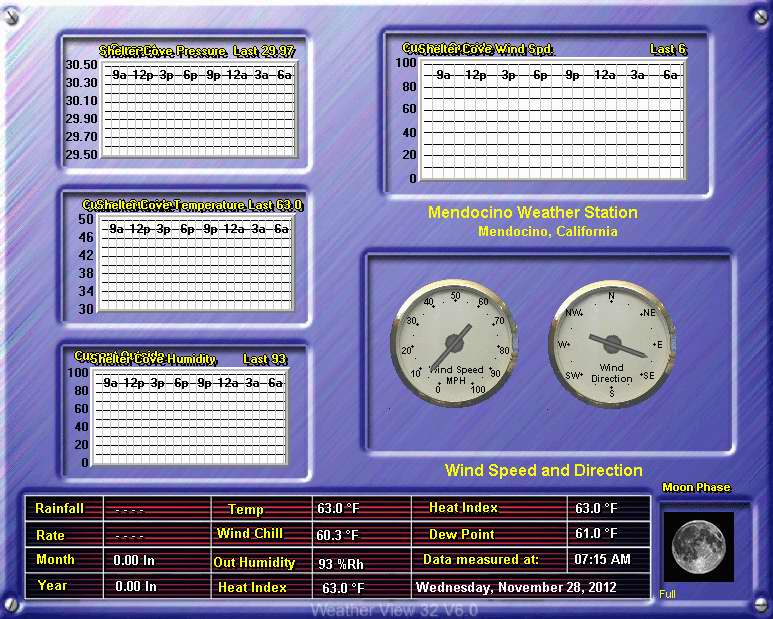 Current Readings from the Weather Station in Mendocino
The Location of this weather station is: 39 ° 18 ′ 31.46 ″ N 123 ° 48 ′ 03.71 ″ W with an elevation of 158 Ft
---
| | |
| --- | --- |
| NEW!Other Weather Data Screens | Click on any picture below to see a larger image |
| Wind Data Graphic | Mendocino Almanac Data Page |
| California Wind Data Graphic | California Humidity Data Graphic |
| California Pressure-Altimeter Settings Graphic | California Temp-Dew Point Graphic |
| Western US IR Satellite Image | |
More Geostationary Satellite images? MPEG loop? Infrared? Click here: http://www.goes.noaa.gov
---
The Most Current Hourly Weather Data in Text/Ascii form is available by clicking HERE
For the most current forecast for the North Coast, click HERE
For the most current buoy report (19 nautical miles north of Pt. Arena), click HERE

NEW! To get DAILY Weather Data, click the link below here, then edit the day, month, year numbers in the web browser window for the date you want. For Example: to get a daily summary of Hourly Weather Data in Mendocino for July 8th, 2000 you would enter the URL:
http://weather.mcn.org/070800hd.txt

Click the above link to see daily data for July 8th, 2000
---
Suggested Links to California and Western US Weather

Albion Weather Page http://weather.ted.net
Weather West http://weatherwest.com
San Francisco Winds 24 hour rain for N Cal. http://cdec.water.ca.gov/precip_maps/nca_24HRprecip.png
San Francisco Winds http://sfports.wr.usgs.gov/wind/streaklines.shtml
Western Region Climate Center http://www.wrcc.dri.edu/
CIMIS weather data http://www.ipm.ucdavis.edu/WEATHER/wxretrieve.html
Upwelling Index for west coast http://upwell.pfeg.noaa.gov/products/current_products.html
Weather data form UC Davis IPM network http://www.ipm.ucdavis.edu/WEATHER/weather1.html
USGS surface water data http://waterdata.usgs.gov/ca/nwis/rt/
UCAR surface weather data http://www.rap.ucar.edu/weather/surface
UCAR upper air data http://www.rap.ucar.edu/weather/upper
Oregon Climate Service http://www.ocs.orst.edu/

---



Feel Free to Link to this Page!
Web Banner Thumbnails- free free to use as links to Mendocino Weather on your own web pages!
Click to see larger images.
---
This page was put together with the help of several people, Jim Goodridge, former California State Climatologist, Rennie Innis, Grant Wheeler of Mendocino, and Anthony Watts Chief Meteorologist of KHSL-TV in Chico, CA, who did the instrumentation, artwork, and automated web page setup.
This page is generated with real-time weather display software called Weather View, to find out how to setup one for your network, contact Anthony Watts at 800-949-8434 or email him at awatts@itworks.com
Page last edited on: 08/27/03